Breakthrough Technology - Most advanced, super lightweight, multi-function Digital Night Vision Scope from Forever Plus Corp. Taiwan
2016-08-19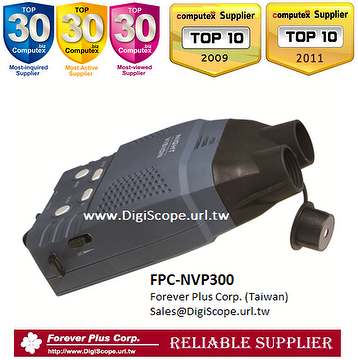 Ideal for professionals like policemen, coast guard, army, security and investigator.
With advanced technology, FPC-NVP300's visible distance can reach up to 300 meters at night in complete darkness and even several kilometers at day in broad daylight. This super lightweight, multi-functional Digital Night Vision Scope can take clear photos, record videos, preview and playback photos and videos directly from the device or connect to TV or PC. With its remarkable and user-friendly features, LOW power and LOW memory consumption is a plus. It is battery-operated which can last up to 10 hours, and can support micro SD card up to 32GB which can record up to 36 hours.
Forever Plus Corp. has been dedicated in Optics and Digital Image since year 2004 to offer excellent performance and fair priced products like high-power handheld search light, digital night vision Scope, and Microscope camera with certificate from DUN & BRADSTREET INTERNATIONAL, LTD.
Please contact us for more details about our product.
Forever Plus Corp. (Taipei, Taiwan)
Direct: +886-2-2933-6873
Key Features:
• The first multi-functional Digital Night Vision Scope in the world
• Clear and sharp image, wide view angle, and user friendly interface
• It is a Digital Binocular at day (brightness) and Digital Night Vision Scope at night (darkness)
• Compact, lightweight and easy to carry
• Visible distance can reach up to 300 meters at night in complete darkness and even several kilometers at day in broad daylight
• The most handy, powerful and easy-to-use recorder for 24 hours of both day and night
• Both power of AA batteries and memory of micro SD card are common in the market